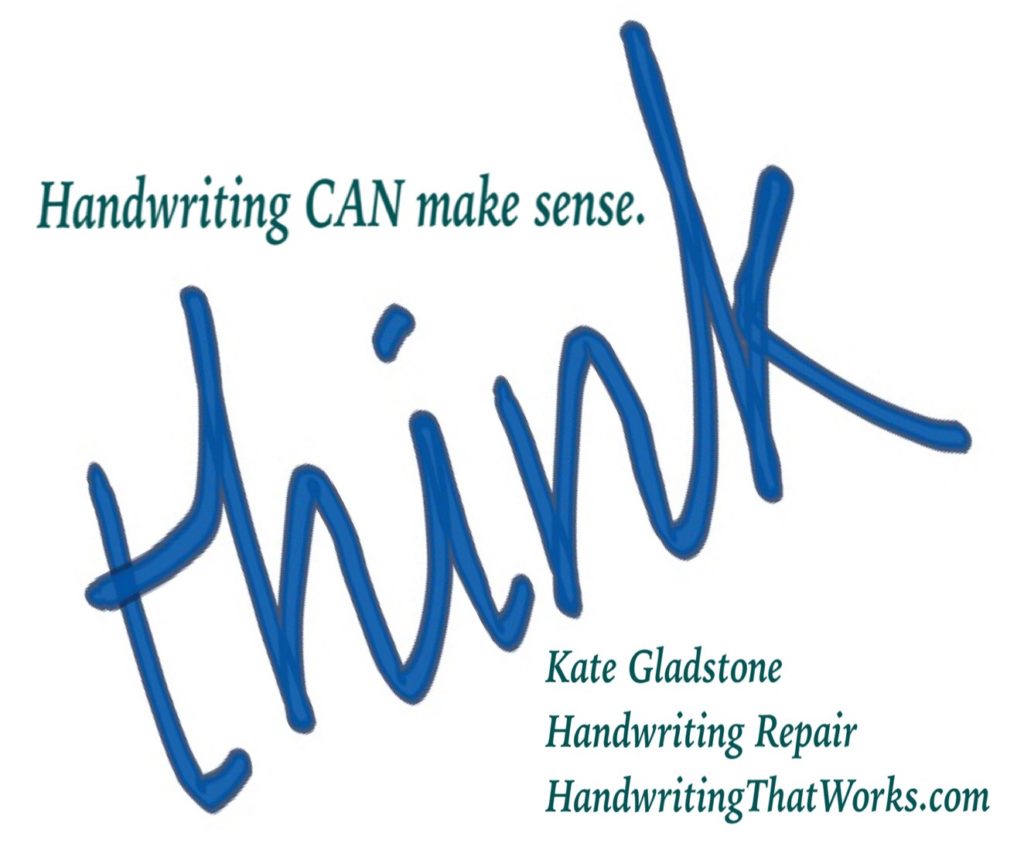 Hello, world! I repair handwriting.
I used to have extremely dysfunctional handwriting ("rotten" wouldn't have been too strong a word), because of having various innate neurological conditions or disabilities (which I still have, despite the fact that I now also have good handwriting.) My diagnoses, made over the decades, include — in alphabetical order —  autism (Asperger's type), dysgraphia, dyslexia, and dyspraxia (among with some others).
At age 24, I dug into the history and ergonomics of our handwriting on order to learn how to help myself, then others.
Today, I teach and remediate handwriting, and help people become aware of its continuing importance today.
(What kind of handwriting do I teach? I teach and advocate a simplified, yet attractive, "back-to-basics" handwriting method, called italic. My advocacy of italic is based on my own observations and experience in this area.)
Here is my CV (resumé).  And here (below) is some of what I've done with handwriting in my life so far:
I put in two years as New York State Director for the Annual American Handwriting Competition (under its founder and first national director, Charles "Chuck" Lehman), during which I researched and successfully employed media/PR outlets for increasing public knowledge of, and interest in, this competition. Owing to these and other efforts, I attained the position of national director for 1997 and subsequent years – becoming worldwide director in 2000 when I upgraded the competition into an annual World Handwriting Contest.
I also spent a year honing high-schoolers' handwriting and literacy skills via a "Calligraphy Club" in a hard-bitten area of Brooklyn, NY (my home town).
And, from 1995 through 2000, I conducted long-term by-mail handwriting-improvement programs for young men in a Missouri correctional institution (for which I received a 1995 Missouri Correctional Systems commendation).
Shortly after my move to Albany, NY in 1993, I p taught a course on handwriting improvement for the Schenectady City School District Continuing Education Program.
And … in 2002 and 2003, I presented at the free Handwriting Celebration which was then held annually under the sponsorship of the educational publisher Therapro, Incorporated.
I am listed  in Who's Who in America (2011 edition).
I've provided handwriting help to individuals and groups since 1992. Until the early 2000s, much of focused on mending the penmanship of physicians (permitting greater legibility at emergency-room speed), and on sharing my knowledge of handwriting instruction with parents, teachers/school-administrators, occupational therapists, remedial/rehabilitation specialists, and other educators. (For more information, and to arrange for services, reach me via e-mail at Kate@ReadCursiveFast.com.
Here follows a short list of some of my works on handwriting and how to improve it (published articles and more):
– "STAGE WRITE Handwriting Practice Paper" (available in 6 formats from Therapro) a six-stage series of handwriting paper that gets it right for writing! Students begin with clearly defined writing spaces and perceptual cues in Stage One – then, the perceptual cues fade in successive Stages as the student gains mastery. Stage Six helps the student make the final transition to conventional lined notebook paper. The high-quality paper erases easily, and the distinctive lines and spaces make success easy for every student. To order STAGE WRITE directly from Therapro, or just to learn more, click here.
– In addition to the above works, I created (as "Karen S. Gladstone") US Patent 5,018,208, "Input Device for Signature Verification," which concerns an electronic signature-verification device that evaluates handwriting form, speed, and quality.
– In addition I will do custom handwritten  calligraphic service for special events such as addressing envelopes, place cards, etc. Prices provided on request.
These days, I keep myself busy putting together books and other materials/media to help people (young and grown) to learn handwriting and to improve their existing handwriting skills.