HOW CAN THEY LEARN TO READ CURSIVE WHEN THEY CANNOT WRITE CURSIVE?
     by Kate Gladstone, author of READ CURSIVE FAST
BACKGROUND
     And some people never even pick up a pen or pencil.
People who don't learn to write cursive usually don't learn how to read cursive — or they read cursive only very slowly, and never figure out how to read cursive fast.
       This is because most people assume that the only way to learn to read cursive is through somehow "just picking it up" while writing it.
        When someone cannot read cursive, or cannot read cursive fast, this  creates problems because reading cursive still matters.
          A child, teen, more adult who cannot read cursive is disadvantaged when:
• a family member writes in cursive, or sends a greeting card that uses a cursive font
• a teacher writes in cursive, or assigns work that involves reading historical documents in their original handwritten form (which is often cursive)
• an  employer, supervisor, or co-worker uses cursive
•/a store sign or logo uses cursive
Today, more and more children and adults — with and without disabilities — cannot read handwriting in a cursive style, even when the handwriting is perfectly formed … which handwriting almost never is.
       In the USA, Canada, and India, for instance, the millions of people who cannot read cursive include the majority of those born after 1985.
However, the population of those who cannot read cursive also includes many older adults. (Among the older group, most but not all of the cursive non-readers are people with neurological disabilities or other differences that affect written language skills and/or visual perception. These issues occur at all educational and socioeconomic levels.)
Strangely, today's millions who cannot read cursive aren't limited to those who were never taught to write cursive.
The people who cannot read cursive include many children, teens, and adults (at all educational and socioeconomic levels, and with all,levels,of ability/disability ) who actually survived cursive classes.
Sadly, being required to trace and copy page after page of cursive examples doesn't guarantee that every student will automatically somehow just  "pick it up" and learn to read handwriting by tracing and copying a cursive book when he or she still cannot read cursive.
      Worse yet: even when a conventional cursive class or workbook actually does lead to students reading (and writing) cursive, those "successful" learners often lose the ability sometime between the year that they are taught cursive (typically Grade 2 or 3) and the year that they leave high school.
This situation was profiled in 2013 by one of Canada's largest newspapers.
. Note that the students being profiled in that article were first-year college students. By now, they are well into adulthood: they either have jobs, or they are trying to get jobs, and probably some of them have started families.
When parents cannot read cursive, how will they help their own children learn to read cursive handwriting? How will parents who cannot read cursive help their children learn to write cursive, if the school or the district or the state requires cursive instruction?
Fortunately, there is more than one way to learn to read handwriting — including cursive.
       Here's how to make sure that everyone who reads print will also learn to read cursive fast and easily — and how to make sure that the skill does not fade away after it has been learned.
***********
Step One: Letter Comprehension
Conventionally, the way that students have been expected to learn to identify cursive letters has been through a combination of incidental exposure and rote memory: the learner is shown the printed and cursive versions of a letter and is told that they are the same:
This is done for each of the 52 letter shapes (26 uppercase and 26 lowercase) that make up the printed alphabet, bringing the total to 104 (52 print letters and 52 cursive letters, since there is an uppercase and lowercase for each printed letter and each cursive one).
       For any student, this approach to learning letters creates a heavy load on working memory and on perception of form constancy. The burden on both of these areas is even heavier when any neurological condition, such as dyslexia or dysgraphia or autism, is part of the mix for a particular learner. When this happens, cursive can become an unreadable, un-remember-able riddle: the student perceives the visual information as nonsensical, and "tunes it out" either immediately or eventually   — just as you or I would consciously or subconsciously "tune out" a lesson which tried to teach us that Democrats are Republicans, or that apples are oranges.
So … how can we make cursive letters make sense, when issues with working memory and/or form constancy stand in the way?
Simple — show how cursive letters happened!
The above graphic is a very condensed picture of a couple of thousand years of letter-history: the "family tree" of the uppercase letter G.  In each line, the G on the far left shows an early print-like form created by the ancient Romans, and still used today. The G on the far right shows a conventional cursive textbook form.
The Gs in between are arranged in chronological order from ancient times till now, showing how people have written the same letter in gradually  differing ways over time. (Most of the changes which created the conventional cursive G — and other letters — happened in the past few centuries. However, to keep the chart simple enough for anyone to use, this chart does not include dates. The focus is on showing the overall relationships between different varieties of the same letter.)
The black outlines on the bottom row of Gs show how any letter G can be easily recognized and remembered, once you see what all of the Gs have in common (the shared pattern shown by the black lines) Seeing shared patterns, and understanding their similarities and differences, draws on pattern-recognition strengths and cognitive strengths (which are usually very strong in learners who have difficulty with cursive reading).
In READ CURSIVE FAST, this pattern-recognition/cognitive approach is applied to "unlocking" all cursive letters, so that the learner develops as a "handwriting detective" — acquiring the "code-cracking" power to read any cursive which is decipherable at all. Some cursive  letters require the detailed step-by-step "code-cracking" shown above, while other letters and combinations can be "cracked" with a much simpler procedure: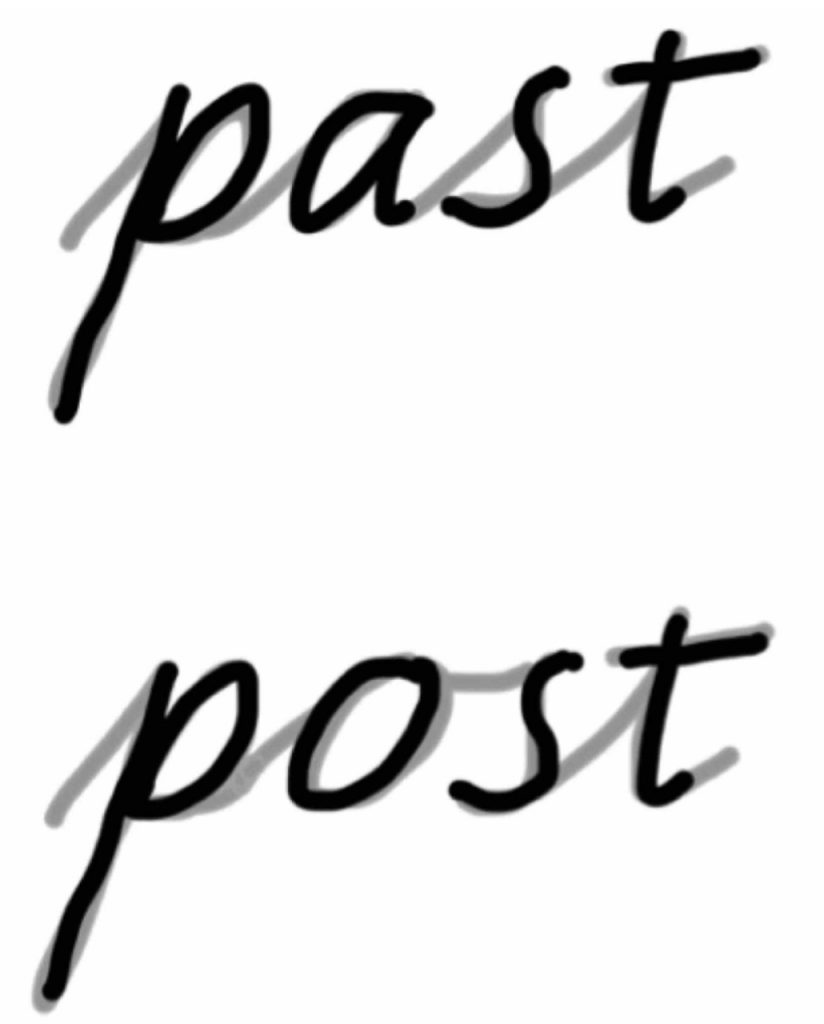 When you see the print-style s hiding inside the cursive s, you can see why cursive s looks different after lowercase o than after lowercase a.
When pattern recognition and understanding are used to build and solidify letter knowledge, learning is far quicker and far more lasting than when the process is made to depend on rote memory and the assumption that "the kids have to just pick it up by writing." Cursive writing is not the only route to cursive reading — for many students, it is not even a reliable route.
Step Two: Reading Sustained Text
Once cursive letters can be accurately recognized on their own and in various words and phrases, the next step is to build automaticity and fluency in longer and longer texts. In READ CURSIVE FAST, the main tools used for this step are specially constructed reading passages of various lengths, called "cursive stories."
"Cursive stories" are composed by using fonts that were designed to resemble a variety of handwriting styles, with a different font being used for every sentence in a paragraph.
        The first sentence or two in a cursive story's opening paragraph always use a font with separate letters (it's best to use a font that has been designed to combine high legibility with the flow of fluent handwriting). The next sentence or paragraph uses a similar font that additionally joins a few of its letters. Then, the third sentence or paragraph adds a few more joins and some other cursive features, and each successive sentence or paragraph continues this process: "cursive-izing" more and more features.
When a new paragraph begins, its first sentence uses a slightly more cursive font than the first sentence of the previous paragraph — and the "cursive-ness" continues to gradually increase from sentence to sentence. By the time the story ends, and usually before that point, the learner is reading 100% joined cursive with all the complexities of conventional cursive.
As an example, here are the first four sentences of a cursive story from READ CURSIVE FAST.
When it comes to cursive reading practice, the difference between an ordinary page of cursive text and a "cursive story" page is the difference between learning to swim in water that is 15 feet deep and learning to swim in a pool that is 6 inches deep at one end and very gradually deepens to 15 feet deep at the other. (Where would you send your child to learn to swim?)
Step Three: Reading Historical Documents.
For many students, the above two steps will be enough to empower them to read whatever cursive handwriting is being written today: the script (or, too often, scribble) of their parents, grandparents, future employers, and others.
        However, most students (especially those with visual processing issues or other neurological issues) will need some additional exposure to an even wider variety of handwriting types, in order to broaden their pattern-recognition "detective skills" to the point of being able to cope with cursive that is unusual in any way (such as using rare and quirky variants of certain letters, for instance).
Because everyone's handwriting is different, no book can possibly teach every single imaginable individual variant of every detail of every letter and stroke. Therefore, learners need to develop the expectation that  they will see significant variations of style — just as beginning readers need to learn to deal with the letter variations in different typefonts, instead of expecting that everything in print will look identical.
One of the best ways to habituate learners to the wide variations in handwriting (in cursive or in any other writing style) is to use samples from historical documents, because handwriting style variations in past centuries were often even more abundant than they are today. (Also, reading historical documents is one of the most frequent reasons for reading anything in cursive. Most of us, at some point in our lives, want to see and read the famous handwritten copy of the Declaration of Independence, for instance, and we want the next generation — and all of our posterity — to be able to do the same.)
      That's why READ CURSIVE FAST includes a section specifically on historical documents, with additional historical document material on the book's website. When learners reach this part of the book, they are usually pleased and amazed to see that they can now read what was literally a closed book to them before.
As the author of READ CURSIVE FAST, I look forward to seeing and hearing your own experiences and thoughts on cursive reading issues and other handwriting issues.