CAN'T READ CURSIVE —
4 MINUTES WILL SHOW YOU WHAT IT'S LIKE
when you CAN read BUT you can't read CURSIVE —
AND WHAT TO DO when it's a STUDENT …
an EMPLOYEE … a FAMILY MEMBER …
or YOU …
Kate Gladstone's READ CURSIVE FAST is the only handwriting/literacy textbook that is publicly endorsed by the leaderships of two competing publishers of handwriting resource materials:


See Kate's YouTube interviews about READ CURSIVE FAST:
ALSO:
Like Kate, Cheri herself has a dysgraphia diagnosis.
Cheri has reviewed READ CURSIVE FAST in preparation for introducing it to her client base at the book's official launch.
Kate Gladstone was interviewed on about Read Cursive Fast, her life, and her career in general during these three successive episodes of an educational issues/autism/disability issues/resources

podcast by clinical psychologist/speech therapist Dr. Anila Khan: a special educator in Pakistan who reaches out internationally.
The podcast ("SPECTRUM TALKS AND TIPS INTERNATIONAL") focuses mainly on autism spectrum conditions, and also on other conditions
and needs that interact with this.
Links:
In addition to doing the podcast, she's also publicizing it on social media, and, including rings to my dog into my other, works: See the screenshots below: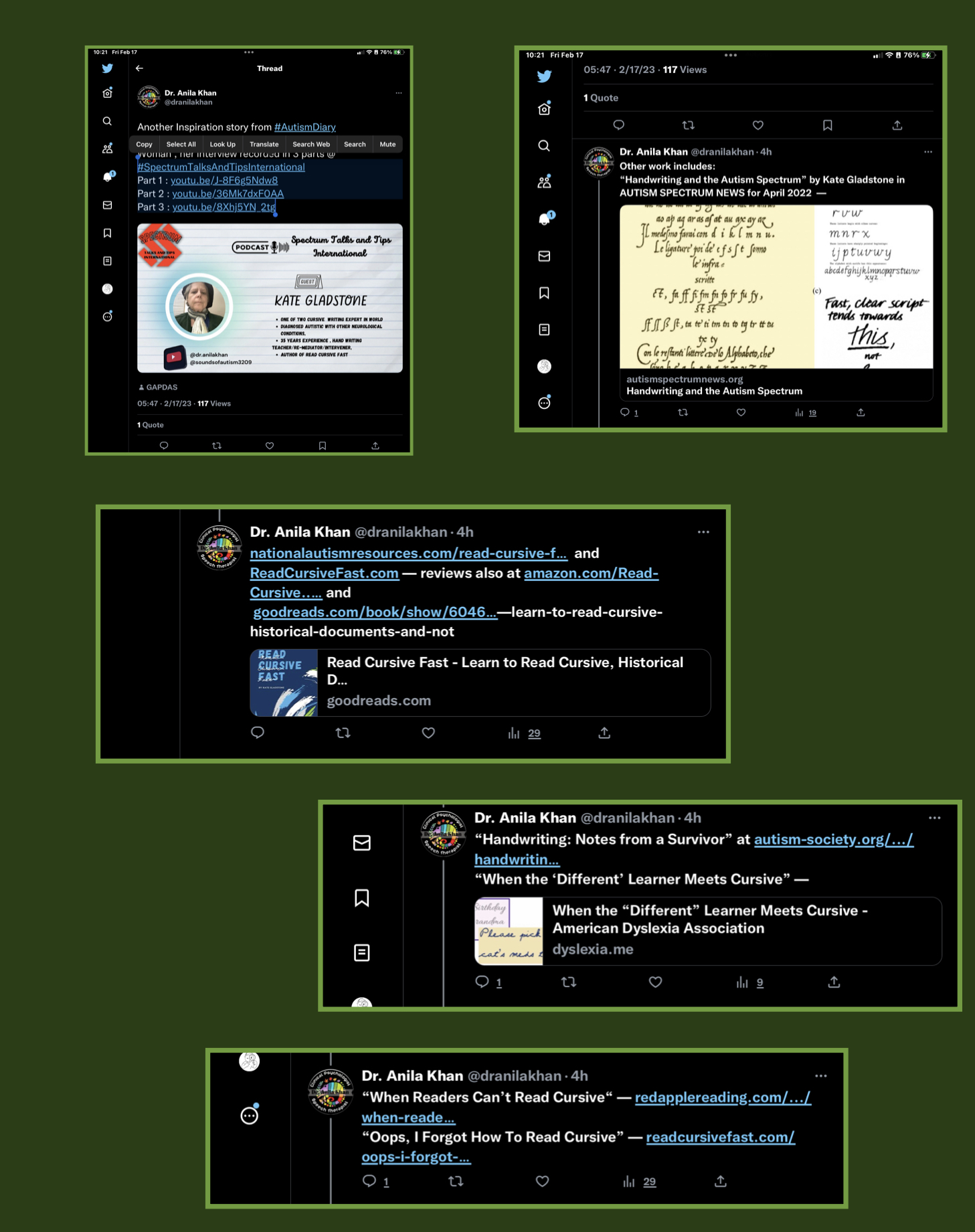 READ CURSIVE FAST and Kate's other work on handwriting instruction and remediation are extensively profiled (for 12 pages!) in the September 2022 international edition of FOOLISH MAGAZINE (the 8-times-yearly publication of PENNAMANIA, an

international organization devoted to advancing the handwritten word through an appreciation of pens, handwriting skill, and calligraphy. This profile of Kate's career also includes much helpful advice on better handwriting performance: for example, how to make accident-prone handwriting accident-resistant. (The interview fills pages 52-64 — scroll through the page's document-viewer).