Yes, it's possible.
In fact, it's common.
Many people who learned cursive in elementary school have forgotten how to read most or all of the cursive letters (let alone how to write them) by the time they finish high school.
A Toronto Star survey of first-year college students found that even those who had been required to learn and use cursive every day in elementary school could no longer read cursive. A line of cursive handwriting was an incomprehensible mystery to them, just as it was to other college entrants who had never been taught any cursive at all.
Since the survey took place in 2013, those college students will now be in the workplace. Probably, many of them have children, or plan to have them. Some of them may be teachers. They are not likely to have learned cursive (or to have learned it again) between 2013 and now.
A somewhat older writer — a columnist at TIME magazine — learned cursive as a third-grader in 1990, but reported in 2009 that she had forgotten the cursive Z and was having trouble with the other letters.
Here are some other links about — and and statements by — young and middle-aged adults who grew up writing cursive, by school policy or state policy … and who cannot read it now, just ten or twenty years later:
https://forum.dvdtalk.com/other-talk/385291-do-you-remember-how-write-cursive.html
https://www.lipstickalley.com/threads/do-you-still-remember-how-to-write-in-cursive.697718/
https://community.spiceworks.com/topic/2090630-i-can-t-read-cursive-anymore-i-m-so-embarrased

One grown man actually wasn't sure if he still remembered what the cursive letters look like — the same letters that he had grown up being taught and required to use for all his schoolwork. So he tested himself. Here's what he found:

A sales executive, Corey Dunn of Data Axle, surveyed his staff of six to see whether they could read cursive. Two of them — a full 1/3 — had to admit that they had little or no ability to do so.
How can someone who "had cursive writing" forget how to read it, just a few years later?
For most people today (and for the past few decades, at least) cursive writing has been presented to them as something completely arbitrary: a series of whole new letters, suddenly introduced in second or third grade, with no visible connection to any part of the alphabet that the student has already learned to use: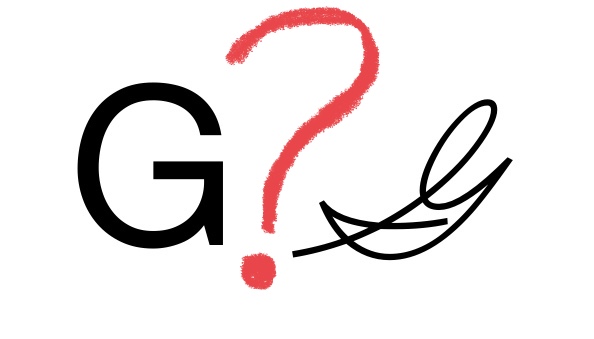 The cursive capital G is one of the most perplexing. Someone who sees and learns it as an arbitrary, unexplainable squiggle will have a hard time remembering it in later years.
What if we showed our students
how cursive happened?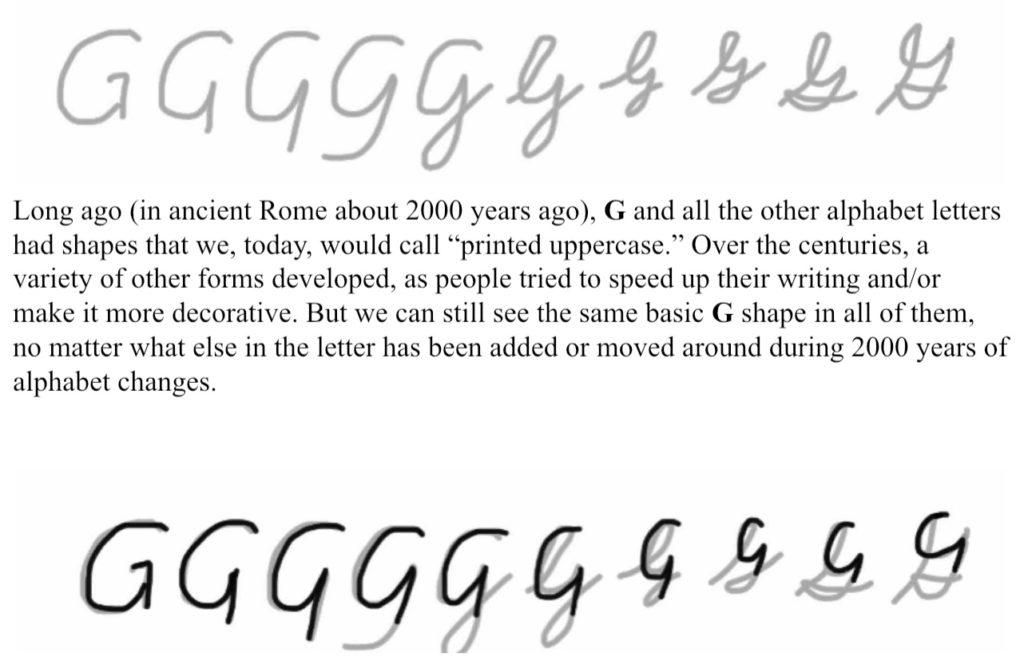 When we know how each cursive letter happened, we know (and we never forget) what makes the letter understandable. Whatever our own handwriting looks like, whatever style we use, or even if we never write by hand at all, we can make sense of every cursive letter we are shown what parts of a cursive letter make that letter make sense.
When cursive letters make sense, we do not need to write cursive in order to read it.
When we make sense of the interrelations of different alphabet styles — print and cursive and more — handwriting becomes …

For more on the under-recognized issue of cursive non-reading, see "When Readers Can't Read Cursive,": my guest blog post at Red Apple Reading.
Then, click here to download some sample pages of READ CURSIVE FAST.
To create your own additional cursive reading practice,
in multiple cursive styles with any text you like,