The following ("Quick Start Seven") is Part Two of my feature "Good Handwriting Matters."
The "Quick Start Seven": Top Tips for Handwriting Legibility and Speed
Tip #1: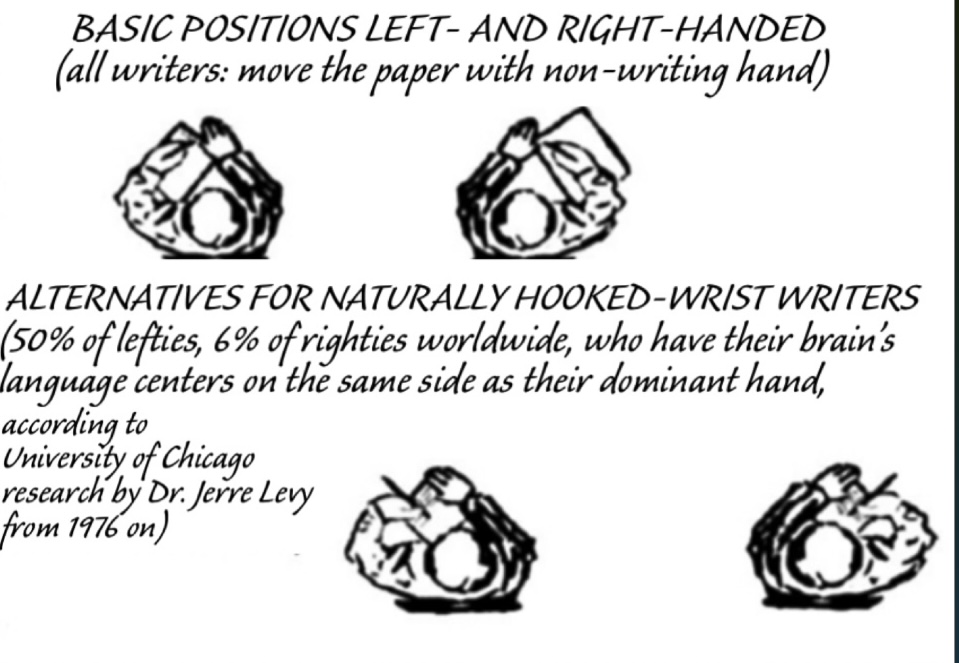 Position the paper in a way that suits your handedness and your typical hand-position. Here are four possible positions — for 95+% of students, one of these will work.
If you cannot find a position that works for you, for any reason, reach me at kate@ReadCursiveFast.com with the subject-line "Handwriting Help!"
Tip # 2:
This tip is mostly needed by people who have been trained to write in cursive. When a letter needs a crossbar or a dot to finish it (in English, this applies to the lower-case letters "t/i/j/x"), DON'T wait till the end of the word to finish that letter!
       Many people have been taught that it must be faster to wait until the end of the word, then to go back over the word to dot and cross any occurrences of "t/i/j/x" that the word contains, and only then to finally go forward again until they reach the place where the next word must begin. However, that conventional cursive procedure is actually slower than simply picking up the pen as needed to finish each of these letters before starting the next one.
     You can prove this for yourself by writing the following sentence in each of two ways — "I thankfully ate twenty jellybeans while tap-dancing to an incredible xylophone." The first time you write the sentence (no matter what is your usual writing style), wait till the end of each word before going back to cross and dot every "t/i/j/x" that the word may contain. (For this experiment, don't change anything else in your usual writing style.) The second time, though, as soon as you write any "t/i/j/x," let your pen leave the paper to cross or dot the letter before you move on into the next letter, so that you won't ever have to double back at the end of that word. (Again, for this experiment don't change anything else in your usual writing style.) Which version of the sentence took longer? Which version required more effort? Which version took longer to read, when you looked back at both versions after you'd finished writing? Most people who do this experiment are very surprised to find what a huge difference in speed, ease, and legibility is created simply by making sure to finish every letter before starting the next (instead of doubling back to dot/cross the letters later, as conventional cursive requires.)
Tip # 3: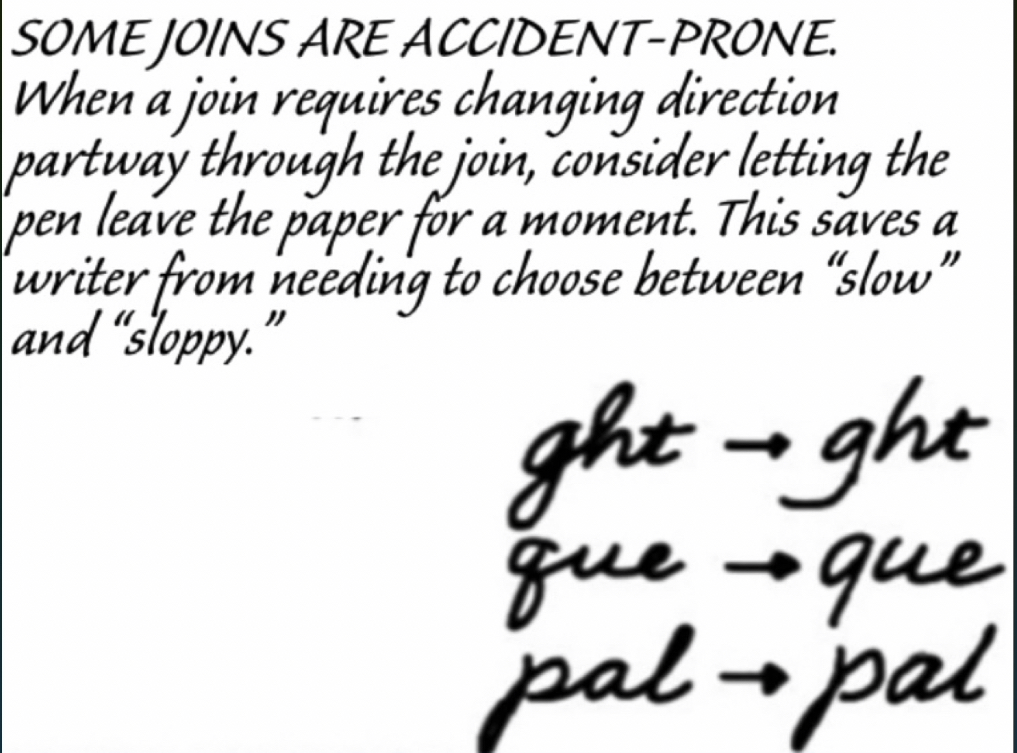 Just as joining out of "t/i/j/x" makes writing require more time and effort than simply letting the pen leave the paper in order to finish these letters in sequence, some joins out of other letters are equally accident-prone in other ways. Whenever joining two letters would require a  curve that changes direction partway through the join, the join becomes more and more difficult to form correctly as writing speed increases. This is why those joins that involve changes of direction are slower (if done clearly) than simply letting the pen lift at those moments to avoid having to slow down (consciously or subconsciously) to tackle the curves. (Joins that don't curve a lot, on the other hand, usually work well, because most of those joins actually are faster than lifting the pen). This illustration shows how much clearer and simpler any handwriting becomes, when complex accident-prone joins are eliminated but the simplest joins remain.
Tip # 4:
For even more clarity and speed in handwriting, notice that many of the strokes which form the beginnings and ends of conventional cursive letters are unnecessary for legibility (and can actually make the letters and words harder to read). To make your handwriting unmistakably readable even at first glance, eliminate those excess strokes as often as you can. (See the illustration for examples of what can be eliminated.) If you have been taught those extra strokes and have made a habit of using them, eliminating the extra strokes will also let you write much faster.
Tip # 5:
      Most of the previous tips (#2, #3, and #4) were designed for people who have been using conventional cursive techniques (such as joining most or all of their letters). This next tip is designed for people who typically join few or none of their letters, especially if they need to increase their handwriting speed without losing clarity.
      People who "print" have often been told that they ought to change their entire handwriting style in order to write faster — however, "print-writers" can learn to write clearly at very high speeds without a major stylistic overhaul, simply by occasionally allowing the pen to remain on the paper between letters.
       The occasions for letting this happen are ONLY when the movement between letters is a horizontal or diagonal motion, and ONLY when leaving the pen on the paper for this motion doesn't change the basic shape of the letter itself.
        Just as most cursive writers need to let the pen lift significantly more often between letters (to eliminate many joins that don't actually improve their handwriting), most print-writers need to leave the pen on the paper slightly more often between letters (to allow the emergence of a few joins that actually do improve handwriting). those to encourage the order to have The illustration shows some good places for letting the pen sometimes "drift" in this way (instead of always lifting the pen) between letters.
Tip # 6:
The more resemblances there are between a cursive letterform and its equivalents in simpler styles of our handwriting, the quicker that letterform usually is to read, and the easier it is to keep that letterform readable as handwriting speed increases. Whatever is your usual handwriting style, make it more legible (and more accident-resistant)  by avoiding letterforms that are typically limited to cursive handwriting styles. Integrate simple shapes into your handwriting, and see where those simpler shapes might work well with simpler joins (as shown in the above illustration).
Tip # 7:

This final tip is for people who habitually write ALL CAPITALS. Writing that consists of row upon row of capitals can be very hard to read — even visually blurring together into long rows of rectangles, like locomotives zooming by — unless the capitals are absolutely perfect. (Capital letters are very accident-prone. Unless penned very slowly, they easily lose their shapes and become harder and harder to read as speed rises.)
If you believe you cannot break an ALL-CAPITALS habit, at least make your writing easier for readers by shrinking those capitals that were really meant to be lower-case letters. (See "NEW YORK" in the illustration. Most people read the version on the right — where capitals that should have been lower-case are smaller than the rest — much more quickly and easily than the version on the left.)
Keeping capital letters small when they should be lower-case has two other benefits for an ALL-CAPITALS writer:
Small capitals can be written much more quickly and easily than full-sized ones, as the pen doesn't need to move nearly as far to make a small capital.

Smaller capitals often let an ALL-CAPITALS writer acquire lower-case letterforms too. Many people who use only capitals do so because they were taught capitals first (even though capitals make up fewer than 2% of the letters we read and write every day), and they had trouble breaking the habit when they were introduced to lower-case. When someone is "stuck" on capitals, making a size distinction often gets past that "stuckness" and allows mastering the rest of the features that create our lower-case letters.
For me, handwriting has become:
– a special interest and skill.
– a path to productive achievement, shared goals and friendships. 
– a value that others can perceive and experience.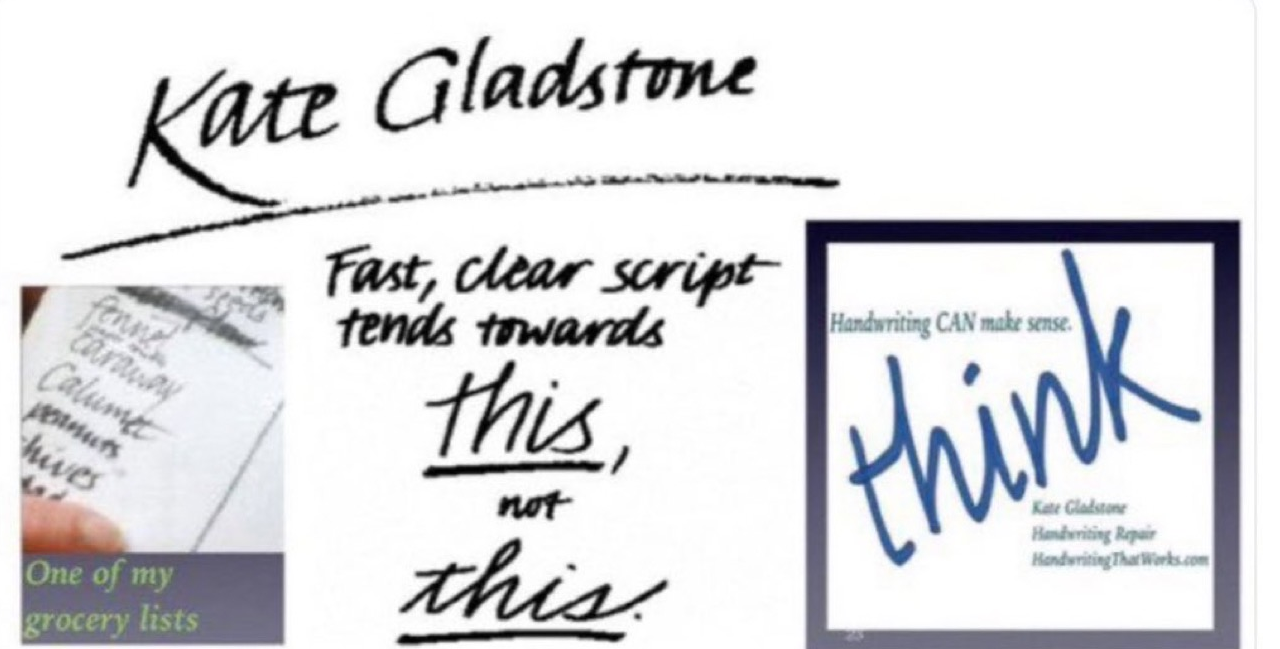 Yours for better letters,
Kate Gladstone — 

The Handwriting Repairwoman